Certain dates are approaching, in which we seek to offer the best products at our Christmas table. In this post, we want to show you 5 starter ideas to surprise your guests on these dates with Iberian Ham as the main ingredient, one of our star products.
With these ideas, you are sure to be right!
1- IBERIAN HAM APPETIZER WITH FIGS AND BASIL.
An aperitif, simple to prepare and exquisite. The mixture of Iberian Ham with the sweetness of figs and a touch of basil (or any other aromatic herb) will surprise in the mouth.
2- IBERIAN HAM TOAST WITH CHEESE AND RUCULA.
In this case, it is an aperitif in which we put a slice of lightly toasted bread and place a slice of Iberian ham and pieces of cheese (the one you like the most, preferably not too strong to compensate for the flavors) and the green touch of the arugula or any other type, it is ideal and very easy to prepare.
3- TOMATO CREAM WITH IBERIAN HAM AND EGG.
An ideal starter, a tomato cream with a touch of Iberian Ham and minced egg, to make room for other dishes. A starter that can be served in individual small bowls, so that everyone can take it in the order they want, enjoying the other appetizers on the table.
4- SEED AND CEREAL BREAD TOAST WITH IBERIAN HAM AND CAPERS.
This time another starter very easy to prepare, so as not to spend time in the kitchen and enjoy with family and friends that it really is the important thing on these dates.
Thick slices of the seed and cereal bread are cut, then the Iberian Ham slices are placed on top and a few capers are added, to give that special touch of its flavor.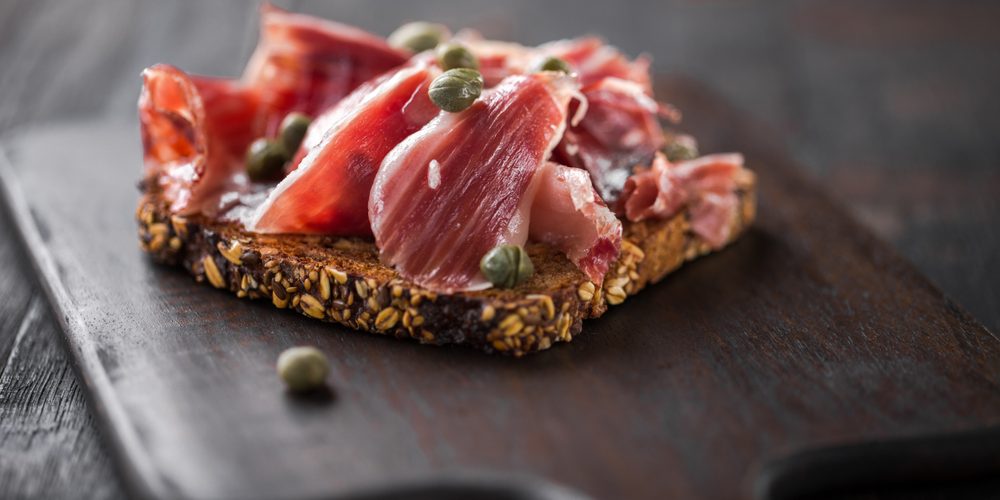 5- IBERIAN HAM TOAST.
It could not be missed, the simplest starter and the one that most people like, the Iberian Ham on a slice of bread (the type of bread that you like best cold or lightly hot).
An entree to which you can add different ingredients among them; a light touch of olive oil or a little grated natural tomato.
Surely you will triumph, and if that Iberian Ham that you have prepared to celebrate these holidays, it is of Ibericos Crego, it will be a Starter of 10 and all your diners will love it for its exquisite flavor.
It is also a great starter, a plate of Iberian Ham, freshly cut into thin and short slices, exquisite …
Well, these are our 5 starter proposals more original and easy to make that we propose so that in these dates, the Iberian Ham is not lacking in your table, but in a newer way.
From here we take advantage of to wish you all a Happy Holidays and Merry Christmas, and that the year that come bring us health and the best wishes all.