Yeah I know We know that it is still until Christmas …, but we see that more and more advance everything. We believe that having things organized with time, in the end it is a way to win a very valuable prize … buy time. For enjoy other things much more important and not be aware of giving turns to what we give away this Christmas.
Other reasons why it is worth anticipating Christmas shopping are that:
– You have products in stock, which may be missing later.
– You can organize in advance the calculation of the total expense you want to allocate. Carry out purchases in a staggered way so as not to do everything blow at the end.
– The Today's convenience, to make your purchases in online stores, without waiting queues, as in www.ibericoscrego.com/tienda, where you will find all our Iberian from Guijuelo. And receive it a few days at home, in your company, shop or restaurant.
– Take advantage of promotions or offers during the month of November, getting the best prices. As with our Black Friday Promotion, an exquisite 50% Iberian Cebo Shoulder from 4 to 4.5 Kg for only € 39.99, enjoy its exquisite flavor directly at your home or we will send it to whoever you want.
Unique aroma and flavor. Ideal to enjoy in company, it will be the star of any meeting among friends, accompanied by a good wine.
At Ibericos Crego, we want to make it easy for you and give you a great idea of present. This Christmas gives flavor.
There is something else nice that … they give you a gift and that you can share it with others and enjoy of its exquisite flavor.
We take care of everything, so that everything is on time. We propose you some options; make personalized batches choosing from our wide selection of Iberian products and we prepare them for you. And we also have organized batches, ideal for individual or corporate gifts.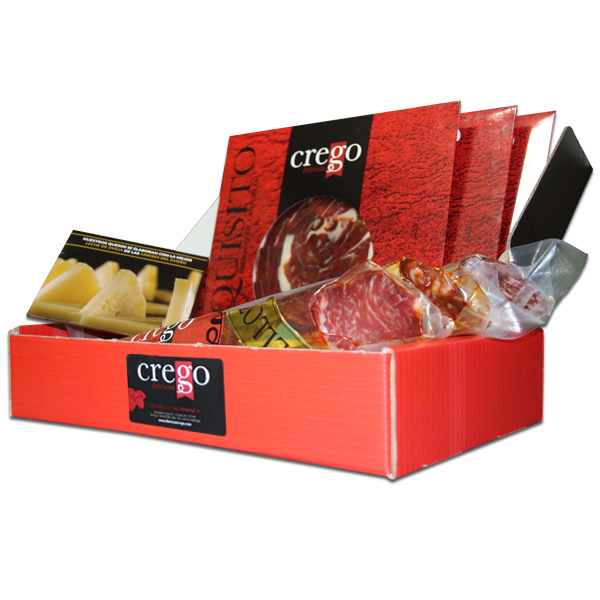 Composed by:
1/2 Iberian Acorn Loin 50% Iberian Breed (0.4 – 0.5 Kg)
1/2 Acorn-fed Iberian Chorizo ​​(0.4 – 0.5 Kg)
1/2 Iberian Acorn Sausage (0.4 – 0.5 Kg)
3 Envelopes of Acorn-fed Iberian Ham 50% Iberian Breed "Cut by Knife" (3 x 100 gr) 1 Wedge of Cured Sheep Cheese (250 – 300 gr)
1 Wedge of Cured Sheep Cheese (250 – 300 gr)
Composed by:
1/2 Iberian Cebo Loin 50% Iberian Breed (0.4 – 0.5 Kg)
1/2 Iberian Cebo Chorizo ​​(0.4 – 0.5 Kg)
1/2 Iberian Cebo Salchichón (0.4 – 0.5 Kg)
3 Sachets of Iberian Cebo Ham 50% Iberian Breed (3 x 100 gr)
1 Wedge of Cured Sheep Cheese (250 – 300 gr)
If you need more information you can contact us through:
Phone: 923 58 13 60
E-mail: info@ibericoscrego.com