By IbCrego
Posted in Christmas, Iberian Ham, Iberian pig, Ibericos Crego, online shopping | Tags : Acorn Iberian Ham, bellota, cestas de empresa, cestas navidad, Guijuelo, ham, Iberian, Iberian Ham, Ibericos Crego, lotes, lotes ibericos, navidad, Online store, productos ibéricos de bellota, regalos navidad
Yes, we already know that there is still a long way to go until Christmas…, but we also know that time runs very fast and as soon as we want to realize it, we are surrounded by lights and Christmas carols.
For this reason, at Ibéricos Crego, we believe that it is best to bring forward Christmas purchases or orders so that you can take care of other things when those dates approach.
Last year, we made hundreds of people enjoy an exquisite Christmas with our Iberian products from Guijuelo. Some in a particular way through our online store or receiving one of our batches of Ibérico products from your company.
We believe that the best gift is a good Iberian, and if it is from Ibéricos Crego, even better, since we pamper every last detail.
For this reason, you can now place your orders and give your employees an exquisite Christmas gift enjoying our Iberian products or if you are private, enjoy the best Iberian Guijuelo as a family this Christmas.
We currently have four exquisite batches of Iberian products, but if you have another type of batch or basket with other Iberian products in mind for your company gift, we are at your disposal.
You can contact us through Tel: (+34) 923 58 13 60 or by E-mail: info@ibericoscrego.com and we will gladly adapt to your needs.
LOT OF ACORN-FED IBERIAN PRODUCTS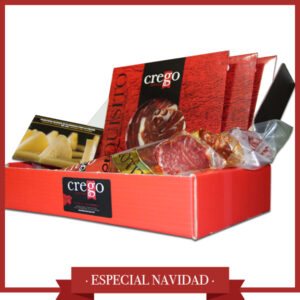 Composed by:
· 1/2 Acorn-fed Iberian Loin 50% Iberian Breed (0.4 – 0.5 Kg)
· 1/2 Acorn-fed Iberian Chorizo ​​(0.4 – 0.5 Kg)
· 1/2 Acorn-fed Iberian Salchichón (0.4 – 0.5 Kg)
· 3 Envelopes of Iberico Bellota Ham 50% Iberico Breed «Cut with a Knife» (3 x 100 gr)
· 1 Wedge of Cured Sheep Cheese (250 – 300 gr)

BUY
IBERIAN LOT
Composed by:
· 1/2 Iberian Cebo Loin 50% Iberian Breed (0.4 – 0.5 Kg)
· 1/2 Iberian Cebo Chorizo ​​(0.4 – 0.5 Kg)
· 1/2 Iberian Cebo Sausage (0.4 – 0.5 Kg)
· 3 Envelopes of Iberian Cebo Ham 50% Iberian Breed (3 x 100 gr)
· 1 Wedge of Cured Sheep Cheese (250 – 300 gr)

BUY
SELECT IBERIAN COUNTRYSIDE LOT
Composed by:
· 1 Iberian Cebo de Campo Shoulder 50% Iberian Breed (4 – 4.5 Kg)
· Half Iberian Cebo Loin 50% Iberian Breed (0.6 – 0.7 kg)
· Iberian Chorizo ​​Candle (0.220 – 0.250 kg)
· Iberian Sausage Candle (0.220 – 0.250 kg)
· 1 Wedge of Hinojosa Cured Sheep Cheese (250 – 300 gr)

BUY
IBERIAN FIELD BUNDLE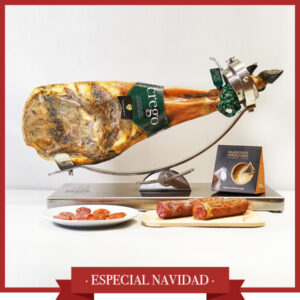 Composed by:
· 1 Iberian Cebo de Campo Shoulder 50% Iberian Breed (4 – 4.5 Kg)
· Iberian Chorizo ​​Candle (0.220 – 0.250 kg)
· Iberian Sausage Candle (0.220 – 0.250 kg)
· 1 Wedge of Hinojosa Cured Sheep Cheese (250 – 300 gr)

BUY
Ibéricos Crego Calle Lirio, 20 – 37770 Guijuelo, Salamanca · Tel: (+34) 923 58 13 60 · E-mail: info@ibericoscrego.com · www.ibericoscrego.com